Dental implants are a great way to replace missing, lost or damaged teeth. With varying heights, sizes and types, your dentist can match your implants to your existing teeth and restore your smile.
If you've lost teeth through decay or injury, having dental implants can close the gap in your teeth and boost your confidence. Furthermore, the right dental implants will be fully-functional and enable you to eat, drink and smile with ease.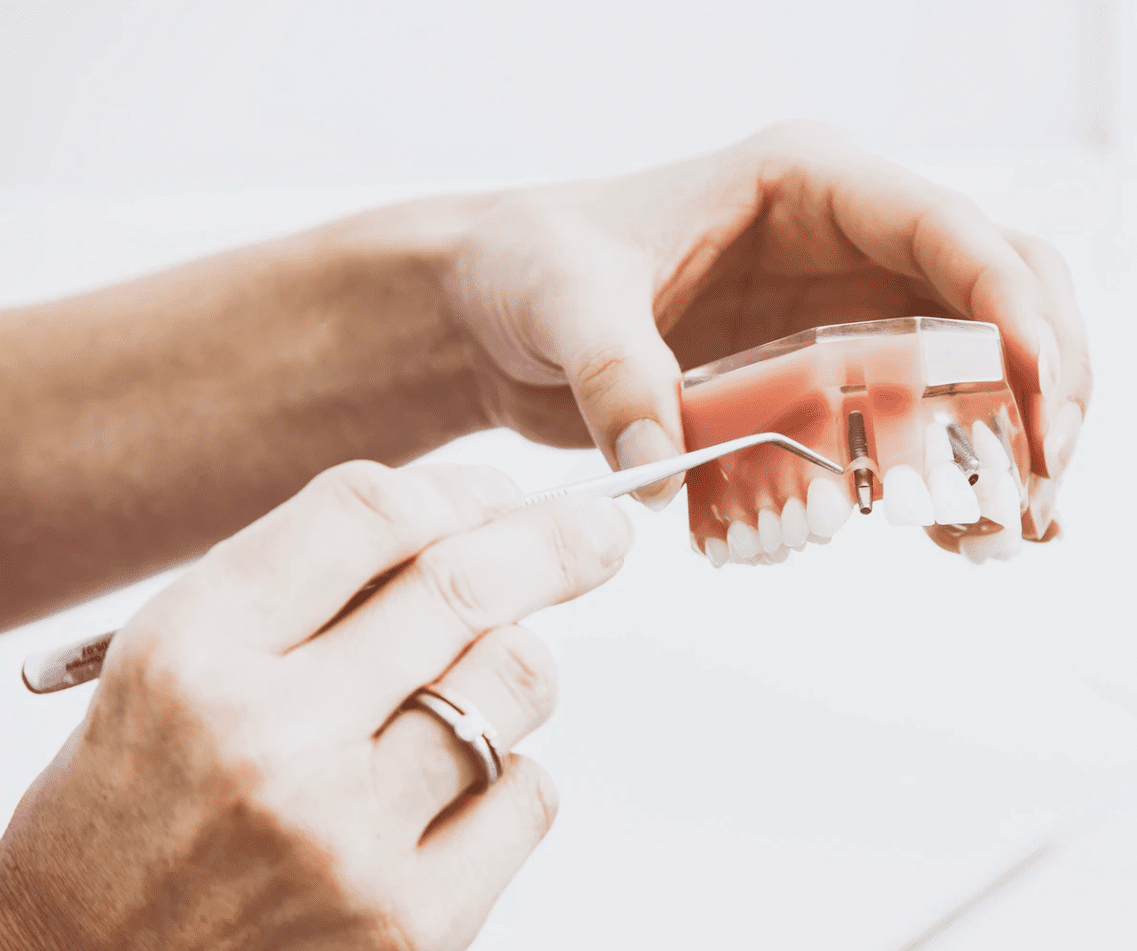 What types of dental implants are there?
There are various types of dental implants, although two types are most commonly used. When discussing what type of dental implants are right for you, your dentist will discuss the various options with you.
He or she will also examine your mouth to determine what types of dental implants are most suitable for you and which will provide the final result you're looking for. The most common types of dental implants include:
Endosteal Dental Implants
Endosteal implants are fixed to your jawbone and act as a long-lasting and hardwearing tooth replacement. Cylinder implants are the most common form of endosteal dental implants, although blade implants are sometimes used.
Your dentist will affix a tiny surgical screw into your jawbone, along with a small cylinder made from titanium, polymeric or ceramic. You will usually need to wait around 4-6 weeks for the bone in your jaw to grow around the screw. This ensures it naturally becomes part of the body and is fixed firmly into place.
Following, this a dental crown, bridge or denture, it affixed to the implant. This is the part of the tooth you will be able to see, and it will be custom-made to provide just the right fit. With color matching technology, your dentist will ensure your replacement tooth or teeth are a perfect match to your existing teeth.
Subperiosteal Dental Implants
Subperiosteal implants are also placed under the jaw, but they aren't affixed to your jaw bone. Between the gum and the jawbone, there is a thin layer of tissue known as the periosteum. Subperiosteal dental implants lie under this tissue and tiny surgical screws are sometimes used to hold them in place.
Prior to fitting, your dentist will make small incisions into your gum so that molds can be taken. This ensures that your subperiosteal implants will be perfectly fitted to the contours of your jaw and increases comfort and durability.
Once your implants have been prepared, your dentist will make further incisions into the gum so that the subperiosteal implant can be fitted beneath the periosteum. When teeth are missing, per mucosal extensions will extend from the implant through the gum. These act as an anchor for your dentist to fit a crown, bridge or dentures.
Typically, you'll have a temporary crown or bridge put in place following the fixture of the implant. This gives your gums time to heal before a permanent tooth replacement is added.
Immediate Load Dental Implants
Sometimes referred to as same-day implants, these types of dental implants can be fully completed within the same appointment. If you have enough healthy bone in your jaw to affix the implant firmly, these could be a great option to replace missing, lost or damaged teeth.
Mini Dental Implants (MDIs)
Mini dental implants are much narrower than typical implants and aren't generally used to hold bridges or crowns in place. Instead, these toothpick-sized implants are installed to stabilize dentures. As the treatment is less invasive than standard implants, it can usually be completed in just one appointment.
All-On-4 Dental Implants
When you need to replace multiple teeth, All-On-4 implants may be used. These types of dental implants enable you to have all of your lower or bottom teeth replaced using just four implants. Instead of having a screw inserted to hold each individual implant in place, for example, you will have four screws installed. Dental bridges will be affixed to these screws, thus allowing for the replacement of your entire set of bottom or top teeth.
Do dental implants hurt?
Not at all. Whichever types of dental implants you choose to have, your dentist will ensure the procedure is carried out painlessly. Local anesthetic is generally used to ensure patients experience no pain throughout the procedure, although light sedation may be an option too.
When incisions are made in the gum, you may feel some slight discomfort as the anesthetic wears off. However, your dentist will tell you exactly how to treat this and what type of aftercare is appropriate.
To find out more about the best types of dental implant for you, contact Patient Empowered Dentistry now on 586.771.6340.